All your questions about Ari Phillips Magician as a close up magician are answered below.
"He is very talented with amazing magic which left our family and friends in awe."
Jenny Hutchinson
KENT
Is Ari a Member of the Magic Circle
​
Yes, Ari is a full member of The Magic Circle and has been a member for close to 15 years. The Magic Circle is the most prestigious magic club in the world. Growing up performing magic, Ari also won many awards for both his stage and close up performances and was also the president of the North Shore Magician's Society. He was also part of an award winning international family magic and illusion show.
​
What kind of close up magic does Ari Phillips magician perform?
Ari's close up magic is up close, interactive and creates a personal experience for all who are lucky enough to see him perform. He will perform close up miracles so close you would think it was a camera trick if watching on tv!
Ari will mix and mingle among your guests, performing incredible sleight of hand magic, classic magic effects and modern close up illusions.
Rubber bands will link before your very eyes, money will visibly increase in value, rope will be cut and restored and your signed cards could appear almost anywhere. Expect the unexpected. Ari's magic is fun and engaging and is sure to keep your guests amazed and thoroughly entertained.
​
Will close up Magic be suitable for my event, party, function?
Absolutely. Because magic is so versatile it becomes suitable to many formats and functions. Such as weddings, corporate events, private parties, trade shows, cocktail parties, networking events, award ceremonies and after parties. Where ever there is a group of people together socialising, Ari's close up magic will have a great impact on them creating a fun environment and memorable event.
​
Is Ari insured?
Absolutely! As a proud member of Equity Ari has up to £10 million pounds public liability insurance. and all electrical equipment is PAT tested.
I understand Ari also performs for Children's Parties, does Ari do kids parties at weddings?….
No unfortunately Ari doesn't provide children's shows for weddings. This far too often becomes a glamourised baby sitting service and is not the best use of Ari's skill sets. In saying that if children are present at a wedding Ari will most defiantly include them in the magic so you can be sure no one misses out. Ari always carries something specific for the younger children too, so never caught off guard. Everyone is entertained when Ari is your wedding magician.
How far will Ari travel for a magic booking?
Most of Ari's clients are in Kent, the South East, and London, but he will travel to Essex, Surrey …in-fact he does travel all over the country and has also performed many times abroad and around the world.
How far in advance do I need to book?
Please book as far in advance as possible to avoid disappointment. Repeat bookings mean that Ari's calendar books up quite far in advance. To be safe its a good idea to book Ari anywhere between 6 weeks to 18 months in advance.
How long will Ari perform for?
This is entirely up to you and will be customised to your event's requirements. Some people choose to book Ari to perform magic for a couple of hours during the evening (a standard booking being 2-3 hours) and others will book Ari for magic for the full day. There are even some clients that choose to book Ari Phillips Magician for the full week - such as trade shows or even a long weekend - for a magical wedding getaway.
When is the best time for a close up magician to arrive ?
Ari always recommends that he arrive before your guests do. This is to ensure he is there ready to entertain your guests as they arrive at the party helping to break the ice. Helping them relax and get people chatting will create a warm, magical and fun atmosphere right from the start. Of course Ari is then also available to perform after the drinks reception at the tables and between courses. keeping the magic flowing throughout the night. Ari doesn't just perform close up magic, ask him about his stand up comedy magic also. This is ideal to engage everyone and get everyone's attention just before the all important speeches! This always goes down well with the guests.
Do I need to provide anything?
Having a magician at your event is one of the easiest forms of entertainment to arrange. You provide the guests and venue and Ari can work his magic. Ari is able to stroll throughout a party, working purely with objects from his pockets or common everyday items borrowed from the guests to perform close up miracles right in front of their eyes and even in their hands! Ari doesn't need a table to perform, however should the party be a seated event, Ari is more than capable to perform table magic.
​
​
What kind of tricks will Ari perform?
Ari is able to perform a variety of styles of magic from modern close up illusions using every day items such as money, rubber bands, rings to classic card miracles using sleight of hand magic. Ari also loves performing mind reading miracles using ESP (extra sensory perception). This is often a hit in his close up shows. Ari also carries a variety of magic to each gig and will determine the type of magic he performs at each table depending on the audience and how they respond to ensure they get the most entertainment value.
There will be a DJ or live band at the event - will this be ok?
Absolutely! Although ideally the music will be at a controlled llevel during Ari's performance times…and can be turned up late in the evening for the dancing. If the music is too loud…no panic, Ari can get by with his eye popping visual magic instead.
Can Ari provide personalised playing cards or bespoke magic sets?
Of course. Ari has provided many happy clients with personalised packs of cards as wedding favours and also for trade shows. Ari's background in design means he is easily able to provide both the artwork and supply of these. Ari can also offer bespoke magic sets and promotional magic for any corporate events, trade shows and exhibitions. Contact Ari to discuss your requirements and request a quote.
​
Does Ari charge VAT and travel expenses on top of the fee?
Ari does not charge VAT and should the booking be within a reasonable distance Ari will not charge travel time or expenses. However clients requiring Ari to travel over an hour will be asked to cover travel and expenses. Should Ari be booked for international performances then flights and expenses will be agreed in advance of the performance and agreed as part of the fee. The fee quoted is the final price.
What's the process when booking Ari Phillips Magician and is there a deposit?
After your initial enquiry Ari will contact you to discuss all your event/party requirements and issue you with a formal quote. Once you have accepted it, Ari will send a booking confirmation which needs to be returned along with the initial non refundable deposit to secure the booking.
Once the deposit is received your booking is confirmed. Ari will then be in touch a few days before the event/party to see all is well. The balance is required either in advance by bank transfer of paid to Ari directly on the day of the performance before the entertainment begins.
Why do you not list your prices on
the website?
There is no price list as such on the website because the fees are dependent on several factors and each and every party or requirement is different. No two events are the same. The final price will depend on the type of party / event, number of people attending, location and length of time required for the magic entertainment. Please go to the contacts page and make an enquiry if you would like a quote.
We are expecting a lot of guests. Will Ari be able to perform for everyone?
Generally the rule is 1 magician for every 100 people or up to 10 tables . Close up magicians usually allow for between 5-10 mins per table…so considering this, If more than 100 guests will be attending then Ari can recommend many other top magicians with whom he works regularly from The Magic Circle and can also book them on your behalf. This way no one will miss out on seeing the magic.
Ari can also perform a stand up cabaret act for everyone. This is often requested just before the all important speeches to engage and captivate everyone's attention.
Why don't you have a showreel or Youtube video channel?
Ari has been performing magic for over 30 years. He is a member of the world famous Magic Circle, which with only 1500 members worldwide is the most prestigious magic society in the world. This along with word of mouth has kept Ari busy for all these years without the need for spoiling the surprise of magic, which a showreel sometimes does. Many magicians these days are merely showing off their technical skills rather than presenting their entertainment skills on social media and showreels. They will present their tricks one after the other but also sometimes spoil the surprise of magic, almost like revealing the punch line before you tell the joke. If you want a real magic surprise and experience why not contact Ari for your next event..Ari is also happy to meet with you in advance should you want peace of mind.
​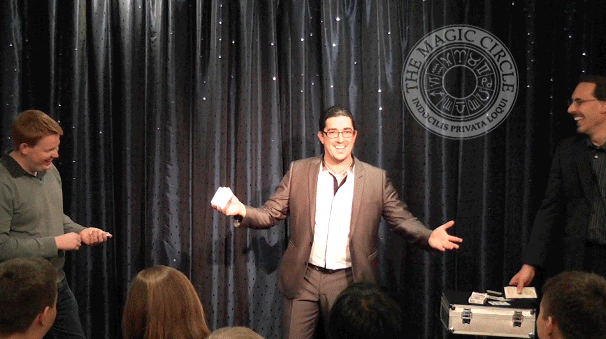 "If you want an individual experience you won't forget I thoroughly recommend this spellbinding performer."
Jenny Hutchinson
KENT
Find out more
Ari would loive to hear from you. If you have a party, event, function, wedding or a social that you would like to have Ari entertain at please call or email with as much detail as possible about your event, including your name, date, time and location of your event and Ari will get back to you soon.
Alternatively you can fill out the online booking form on the enquiry page.
Thank you again for enquiring about the magic of Ari.
​
​